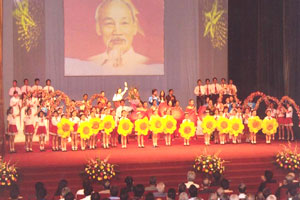 May 19 is a very special day as it's
Ho Chi Minh
's birthday and this day is stuck deeply inside every Vietnamese heart, respectful and proud.
Everywhere in Viet Nam this day is celebrated with lots of different performance and there are also lots of painting and photo exhibitions happening a few days before. The government also convenes lots of meetings to talk about
Uncle Ho
and the Ho Chi Minh mausoleum is a place to go for so many many people around Viet Nam, who just want to come here to see him and talk about him together and think about what he had done to help Viet Nam become great. They
dressed up
in different ways such as long dresses, suits and so many of them wear a yellow head band on their heads to show that they are Unclo Ho's children. Yes, we are all a part of him in mind and spirit.
There are so many
magazines
in and out of Viet Nam writing about him and they keep talking about how great he was to lead the country in such a right way. Writing about Uncle Ho is so difficult for me because I don't know the right words to express my feelings for him. He is not only my hero, he is a grand hero all over Vietnam. As I always say to my friends and tell myself that I am Vietnamese and always will be.