I arrived in Saigon safely at 12 am with things still happening as usual. People are so friendly here and make me feel like like I am at home. Went to Pho 24 in Nguyen Du street for my first breaky but it wasn't as good as i thought, anyway, been there done that.
The food in Ho Chi Minh is great: I love the sweetness of the sugar in most dishes. It makes me think about the japanese stuff that Hanoians use in their dishes. People speak English better and funnier, also, in HCMC. My hotel, the Le Le hotel is great, reasonably priced, basic, clean and has friendly staff.
I met my friends, Liz and Pam, at the airport on such a hot day, but they love the heat. It's late winter now in Australia and pouring rain on their stop in Singapore. Pam couldn't believe the traffic and she doesn't think she would be able to drive in Vietnam. This is not a surprise to me at all.
We went to Nam Giao for lunch at 3pm after they had a short nap. This is a Hue restaurant where the food is fabulous and very cheap, located in a small alley belonging to 136/15 Le Thanh Ton Street (08).8250261. They have another restaurant in 662/19 SuVan Hanh Street(08) 8621203. We spent 120,000Vnd including a few drinks.
We went to the Cu Chi tunnels the next day with Sinh cafe, which is a well known tour company in Vietnam. The tour guide was a soldier who followed the Americans in the war. He is a real funny guy but I don't think I should comment any further because its a bit sensitive with politics. My friends couldn't believe how we survived and won the war. The tour sent us to a room to watch a video t
ape for 20 minutes which explained about the place and the war. Even though it was very short, it helps people to see and understand how difficult life was during the war and how terrible the behavior of the US army was. Some people tried to go through the 30 metre tunnel which has been widened for tourists. It was fun and my friends loved it. We also tried cassava with salt and crushed peanuts, which was delicous and they gave us special tea, too. We ended our day day having paid $4 for the ticket and 65,000 Vnd for the entrance fee and it took us 3 hours to go and return.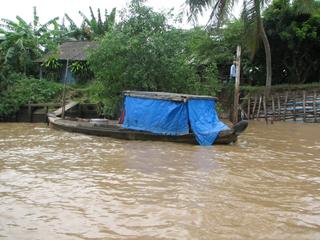 The Mekong delta is a very interesting place to visit. The bus took us to Cai Be and Vinh Long, a three hour journey each way, to visit the floating markets and coconut factory which are very interesting. We bought a few things and some candies which costs nothing but are good to try. You can bargain for a cheap price and this is fun! There are heaps of interesting things made from Coconuts, such as toys, rings, bowls, and ashtrays. We had lunch and enjoyed the traditional performance of one little girl and an old dady who sang some very old traditional stories in the Bonsai garden, then we headed back to Saigon.
On the way back we stopped at an amazing rest stop village with lots of traditional houses with beautiful gardens and lots of geese and ducks wandering around.